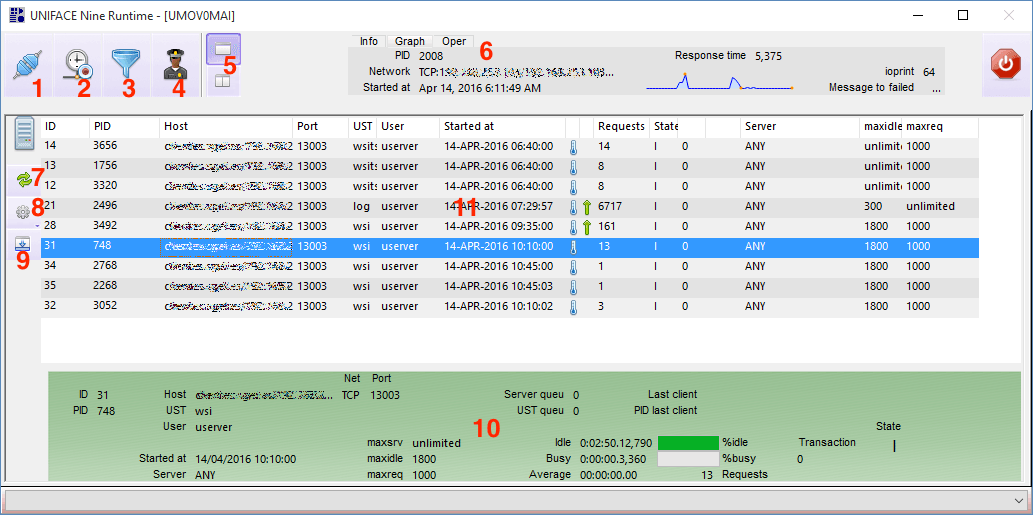 UMO is an Uniface standalone application that allows you to monitor, control and fine-tune the Uniface Router.
In a mobile or webservices scenarios monitoring Uniface Router is essential for business. It helps to configure production environment by analyzing the actual performance of uservers in execution.
Features
Visual enhancement of standard Uniface Monitor tool
Remembers all urouters you connected to
Remembers users and passwords
Allows vision only or privileged access
Allows kill specific uservers or using a profile
Allows start uservers for specific UST
Shows graphical statistics for every UST (requests served, queue size, and uservers running)
Records statistics in database (when is running)
Commands urouter to re-read asn file with no need to restart it
Information about each userver is human readable, clear and multilanguage using tooltips to explain the meaning of fields.
Highlights recently started uservers
Graphically shows uservers load
Tests urouter/userver configuration by executing a configurable number of test services.
Helps discovering:

Clients waiting for Uniface Application Servers that are not responding
Uniface Application Servers with long queues
Uniface Application Servers with poor response times
Uniface Router with poor response time.
Connect/Disconnect
Start/stop recording stats
Filter
Login as super-user
Show uservers only or connected clients
Show urouter info
Refresh
Start/Stop/Show statistics uservers (same as right-click over any userver)
Show/Hide 10
Info about selected userver
Uservers running